Photo Album

visitors since May 27, 2001.
This was our humble abode from April 15, 1996 until September 1, 2002 (lousy picture, but you get the point). We bought, fixed up and lived in the house three doors to the right of this picture at 4735 Torrence Ave. until November 2004, when we moved to Griffith.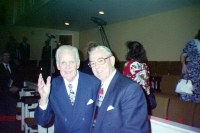 These are two of our favorite preachers: Dr. Lee Roberson, now evangelist and founder-pastor of the great Highland Park Baptist Church in Chattanooga, Tennessee, with our late preacher, Dr. Jack Hyles, who pastored the great

First Baptist Church of Hammond, Indiana August 30, 1959 until he went to Heaven on February 6, 2001. L Click
here
to get the history of Bro. Hyles' battle with his health.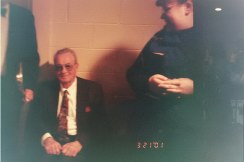 Before Tom Malone was to preach during Pastors' School 2001 (he was sitting in my usher's chair), I turned off my camera flash and took a quick picture of him. My daughter, Melody, is standing on the right. Bro. Malone was Dr. Hyles' favorite preacher.